About Dobersmith:
Dobersmith is based in Central New Zealand, and Ebondobe in Queensland Australia. We breed Dobermanns from American bloodlines with "temperament" and "soundness" being of upmost importance. We are always pleased to assist with any breed enquiries.

Americans are credited with developing the handsome and reliable Doberman we know today: credited as a keen, loyal, friendly and obedient family pet. He does, however, maintain his watchful, determined, and alert instincts.
Read more about the Dobermann > > >





---
NZ/AUST GRAND CHAMPION MARTYN BLACK AS THUNDER
The great "Kohl"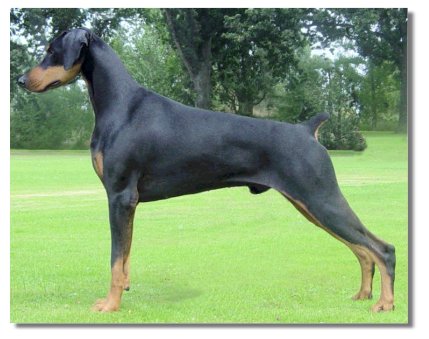 Past Advertisements:
Click here for Dobersmith Advertisement - PDF *
Click here Martyn Advertisement - PDF *


* PDF files can be viewed in Adobe Acrobat Reader.
If you do not have Adobe Acrobat Reader installed you can download it directly from Adobe. Click the link below. This is a free download.



.



---

Site design by Webpage World

NZ/AUST GRAND CHAMPION MARTYN BLACK AS THUNDER
The great "Kohl"

KOHL WAS CROWNED NEW ZEALAND DOBERMAN OF THE YEAR 2002 - 2003.
Kohl has done the Dobermann Breed Proud - he achieved Grand Championship Status by 2.5 years - and was retired from the showring in July 2003.


On 12th July 2003
KOHL QUALIFIED AS A *GRAND CHAMPION!!!
Otago Kennel Association All Breeds Show - Judge Mrs McMurtrie from Queensland (Aust)

On May 16, 2003, Kohl became an *Australian Champion. *While in Australia Kohl attended 5 All Breed Shows
Attaining :
5 BOB
3 Best of Group
1 Runner Up Best Of Group
1 Best In Show
2 Open In Show

27/04/2003 - at his first show in Australia, Ch. Martyn Black As Thunder wins Best In Show All Breeds - at the CCCQ Library & Archives All Breeds Championship show under the judge Mrs J McMurtrie (Qld).

06/04/2003 - Ch. Martyn Black As Thunder wins Best In Show All Breeds - at the Geraldine County Kennel Assn under the judge Mrs D. Clark from Levin.

19/10/2002 - Ch. Martyn Black as Thunder wins Best In Show All Breeds - at the Ruahine Kennel Association under the judge Mrs Bett from Canada !


Kohl won best of breed at the 2002 National Dog Show


Kohl won the 2002 5th Annual Supreme Puppy Contest and Supreme Utility Dog Puppy